Half Height Refill Cartridge--NEW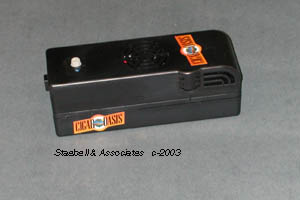 Half the height of the std. cartridge.
Allows for placement of the CO under
the tray of the El Rey style humidors**.
** Smaller size will shorten the duration
of the cartridge.
Cost: $10.00 ea plus shipping
Regular Refill Cartridge for standard
Cigar Oasis--$10.00 ea plus shipping



NEW- Cigar Oasis Plus XL Now with digital display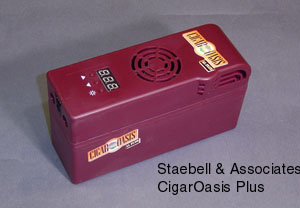 Unattended long-term reliable operation
Designed specifically for small cabinet humidification where space is at a premium.
Small size - only 3.5"h x 2"w x 6"l
Air flow has been increased to the same level as the EXTEND Humidifier shown below.
Resevoir is refillable with distilled water only. No more cartridges to purchase. Approx 1/2 the capacity of the EXTEND.
Power supply can be plugged in directly to the CO+, or used wth the flat ribbon cable.
Preset to 70%, & may be user adjusted to personal preferences.
Replaceable wick for increased efficiency.
Suggested List-$129.00
SPECIAL- $108.99
Cable management grommet can be included for those who wish to drill a permanent access whole for the power supply.


New-- Exclusively from Staebell & Associates
Aristocrat EXTEND Humidification System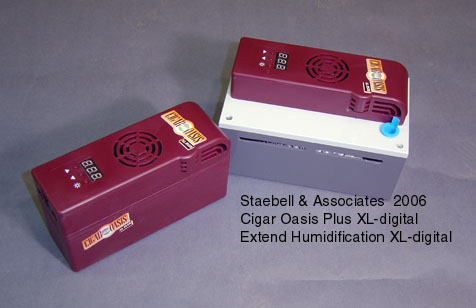 Cigar Oasis technology combined with Set & Forget
Convenience.
4-6X the airflow of the standard CO
Distilled water only for low cost refilling
2-4X the water capacity for extended use
Perfect for the 3-6 cubic foot cabinet!!
Additional Fans Available
Extend humidification-$139.00 plus $7.95 priority mail shipping