Return to Cabinet INDEX Return to OPTIONS INDEX TOP & DOOR OPTIONS




ARISTOCRAT OPTIONS
WOOD SELECTION Click on images for larger view

Natural Mahogany Dark Red Mahogany Brown Mahogany


Natural Maple Natural White Oak Natural Cherry

Black Walnut Aristocrat Plus Light Golden Oak
Black Walnut

Any of these woods/colors may be selected at no charge, with the exception of
Black Walnut. Black Walnut is a $150.00 option.

Custom color matching (dye or stain) is available.
FIGURED WOODS SELECTION

Tiger Maple
Natural

Tiger Maple-
Natural Mahogany

Quilted Maple- NaturalCherry

Crotch Mahogany
Natural

Crotch Mahogany
Dark Red Mahogany

Plum Pudding Mahogany

Walnut Burl

Natural Walnut


Walnut Burl
Dark Red Mahogany

Walnut Burl-Oak Comb.

Crotch Mahogany
Raised Panel Doors & Top


Birdseye Maple Door


Figured Sapele
Red Mahogany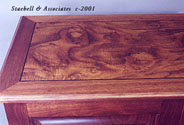 CLICK HERE FOR TOP & DOOR OPTIONS



TOLL FREE ORDER LINE 1-800-955-1843
Questions?, Additional info?, Need a high resolution photo that the internet can't provide?
Drop me a E-Mail.
---
| Cabinet INDEX | TOPS-DOOR OPTIONS |
STAEBELL & ASSOCIATES
1400 Flintwood Drive
Richardson, Texas 75081
(972) 494-0100
1-800-955-1843


---
Copyright © 1997-2005
All Rights Reserved